WE OFFER A LIVE PRIVATE WEB BASED IN HOME TRAINING
| | |
| --- | --- |
| | We understand that people would love to learn this skill, but work or travel makes it a bit challenging. We just can't because of home, office schedules or childcare. So we designed A dynamic LIVE-Web-instructional course that is interactive with an instructor. |
HERE'S HOW IT WORKS
You purchase the LIVE-Web-instructional course.
We send you an inflatable manikin, an AED and a web link to complete "online" educational videos and skills in your on Home.
Once you complete the "online" LIVE-Web-instructional course, we will send you an email so we can choose a date for you to login via, Tablet, Laptop or Mobile device, for a Facetime® or SKYPE® instructor skills check and skills evaluation.
Here you can practice, ask question and the instructor will personally train you in a group session with other students.
​THATS IT!!! Very fun and easy. Don't worry only the instructor can see you and you can see him.
If this sounds like it would benefit you, please contact our director for a free phone consultation.
Office: (201) 751-4441 Cel/Text: (929) 371-6161 or via email: Ralph@ironhandrescue.com .
We will ask a few simple questions to try and sort out the best day and course for you.
We have trained many Corporations, Executives and Artists privately in their own home and office nationwide. Some have even made a Family & Friends afternoon of it.
CALL FOR PRICING
OUR NEW IN HOME COUPLES AND FAMILY COURSE
DJ'S SAVE LIVES COURSE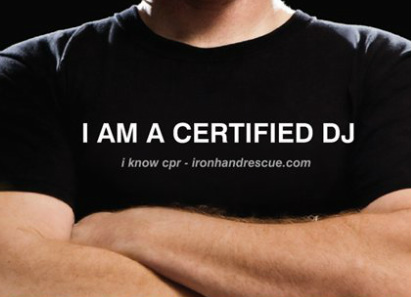 - YOU provide the MUSIC!
- YOU keep them moving & shaking on the DANCE FLOOR!.
- YOU control the most powerful SOUND SYSTEMS around!
- YOU are the NIGHT LIFE!
So why not be be prepared to SAVE A LIFE.
Give that special Fan, Friend, Family member or Dancer a second chance to enjoy the gift of LIFE so they may continue to feel your MUSIC!
A great DJ may rock the PARTY.
But a certified DJ can save a LIFE!

​FACT: Most CPR AED courses can run about 100 boring bucks, and you only get a Joe Schmoe printer paper cut out.
This course will earn you:
An American Heart Association Certification card, good for 2 years and accepted nationally.
I AM A CERTIFIED DJ - T shirt. ( YOU CAN'T BUY THIS! YOU MUST EARN IT ! )
A CPR AED Student workbook.
A MINI RESCUE barrier device and gloves (for CD/laptop bag).
The Skills, Training & Confidence to handle an emergency. That alone, is self rewarding!
CALL FOR PRICING
---